VISITA ESTA PÁGINA CON MÚSICA
[Dr. Zhivago] [El Padrino] [Ht .California] [Gargoyles] [Vida de Brian][Indiana Jones] [1492] [Inmortales] [Último Mohicano] ,
| | | |
| --- | --- | --- |
| | ELEUSIS | |


UBICACIÓN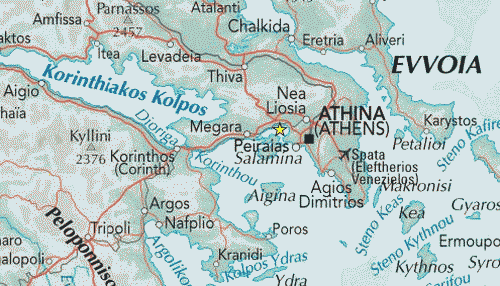 Eleusis ( Elefsina en griego moderno: Ελεύσινα, ) es una pequeña ciudad a unos 30 km al NW de Athens. Era el lugar de celebración de los Misterios Eleusinos, uno de los cultos más importantes de la antigua Gracia y el lugar de nacimientos de uno de sus grandes trágicos; Esquilo. Cfr. tb. Metanira.

Demeter Santuario en Eleusis [Source]
Telesterion de Eleusis

Eleusis: Temple of Demeter
(Gandy-Deering; Dinsmoor 1950)
Antes de Pericles
En época de Pericles (443 - 429)
Época helenística
Durante el Imperio romano
ELEUSIS DANS L'ANTIQUITE (1)
Maquette du site d'Eleusis (présentée dans le musée d'Eleusis) : l'entrée du Sanctuaire vue du nord
ELEUSIS DANS L'ANTIQUITE (2)
Maquette du site d'Eleusis vu du sud-est (présentée dans le musée d'Eleusis) : arrivée au Télestérion
Demeter, Triptolemus and Persephone, [Source]
Eleusinian gods. Detail from an Athenian red-figure clay vase, about 335-325 BC. St. Petersburg, State Hermitage Museum 1659 © State Hermitage Museum
Celeus, King of Eleusis (father of Triptolemus)
Hippothon representing the tribe of Hippothontis to which the deme Eleusis belonged
Today, the city, has became a suburb of Athens, and is linked by the freeway, the Athens metro freeway (Attiki Odos), and Athens metro (transit). A toll post named after the community is on the westbound lanes of GR-8A. A hill is near between the tolls and the refineryi North of Eleusis is Mandra and Magoula, and northeast is the Thriasian plain containing Aspropyrgos is founded. There are no communes in Eleusis. It lies northeast of the Gulf of Eleusina.


Elefsina is the town where the majority of crude oil in Greece is imported and refined. The refinery nearest to the city is on its west side. The other major town is Aspropyrgos, next to the shipyards of Skaramagkas.


Forests align with the bay with a length of around 200 m. The nearest mountain is in the northwest.


Hymn to Demeter Classical Pagan

Links
bips.cndp.fr/scenarios/ sc-hu/Histoire/eleusis/ :Visita virtual al Santuario de Eleusis
Perseus : Eleusis,
Αρχαιολογικό Μουσείο Ελευσίνας - Archaeological Museum of Eleusis ,
Retrieved from "http://en.wikipedia.org/wiki/Eleusina"

All text is available under the terms of the GNU Free Documentation License
Click on the map for photos and descriptions. You can also pick from the list below, or just scroll through the page and follow the procession in order:
Beginnings at Athens
Purification and Sacrifice
Back in Athens
Procession to Eleusis

The image is a part of a Black Figured Vase with a Procession of Initiates, Eleusina Museum Greece.

The Greater Eleusinian Mysteries were a set of rites, surrounded by a major multi-day festival, which show numerous ties to the tale of Demeter and Persephone told in the Homeric Hymn to Demeter. (ALL LINE REFERENCES GIVEN BELOW ARE TO THE HOMERIC HYMN TO DEMETER.) The Mysteries were held once each year over nine days (line 47) in the early fall, partly in the city of Athens and partly in the nearby town of Eleusis. Initiates came from all over the Greek and later the Roman world. Messengers from Eleusis proclaimed a holy truce in Greek city-states lasting fifty-five days.
The activities began on the day before the first official day of the Mysteries, when a procession carried the so-called "Hiera," mysterious "holy things" whose nature is unknown, from Eleusis to Athens after preliminary sacrifices. The procession would stop to rest at the Sacred Fig Tree, where according to later legend Demeter stopped to rest and was cared for by Phylatos. As a reward, she gave him the fig tree. The procession then went into Athens to the city Eleusinion, the temple of Demeter in Athens, near the Acropolis.
On the first official day of the Mysteries, the Archon Basileus summoned the people to the Agora (marketplace) of Athens and, in the presence of the Hierophant and the Dadouchos, read a proclamation calling forth the initiates. (For explanations of all these officials and their roles, see Background to the Mysteries.) Those who were forbidden from participating included those who had committed homicide, barbarians (after the Persian Wars), and those who could not understand Greek. Those admitted could enter the Eleusinion after washing their hands in lustral water at the door.

Back to top
Purification and Sacrifice:
On the second day the participants walked to the sea near Athens and cleansed themselves and a small pig. Upon returning to the city, participants sacrificed the pig.

The activities of the third day, the Day of Sacrifices, are not certain, but it is likely that on this day the Archon Basileus made sacrifices on behalf of Athens, and then theories (delegations) sent to Athens for the occasion made sacrifices on behalf of their home cities. (line 368-8)
The fourth day was called Asklepia to commemorate the late purification of the god Asklepios. Tradition states that the god arrived at Athens a day late for his purification. However, the purification rites were repeated so that he could be properly initiated into the Mysteries. On this day, those participants who arrived late are purified. Those who had already been purified stayed home that day and probably received further instructions.


| | | |
| --- | --- | --- |
| | Attica - Eleusis. 4th - 3rd c. B.C. AE 12 mm. Triptolemos, favourite of Demeter, seated l. in winged car drawn by serpents, holding corn-ears / Boar standing r. on bacchos; beneath, bull's head. | |

A Caryatid from the Lesser Propylaia in Eleusis, second half of the 1st century BC.

Back to top
The Procession:
The fifth day was known as Pompe, or "procession." Officials, initiates, and sponsors proceeded to Eleusis from Athens on foot, a distance of 14 miles, though in the fourth century B.C.E. the rich customarily rode in carriages. Priests and the Hiera also began riding in carriages at about this time. At the head of the procession was a statue of Iacchos, the personification of the excitement and noise of the procession.
Ribbons
: After the initiates had crossed the bridge of the river Rheitoi, an event known as the "krokosis" took place, named for the legendary Krokos, the first inhabitant of the region. Here, his descendants would tie a woolen "kroke," a saffron-colored ribbon, around the right hand and the left leg of each initiate. Though the purpose of this is not clear, it definitely gave the initiates a chance to rest until sunset, when the procession continued.
Insults and jeers
: Once the procession reached the river Kephisos, men with covered heads, known as "gephyrismoi," waited to hurl insults, jeers, mockery, and abuse at initiates -- among whom were included important citizens of Athens! The purpose of this action is opaque, but perhaps it was to humble these citizens, or vet them so that evil spirits could not affect them. In any case this aspect of the ritual echoes a vulgarized evolution of the soothing jokes of Iambe (lines 194-205). Finally, upon the arrival of the procession, many dances and festivities were held for the excited initiates before the people dispersed to rest for the night.
Back to top
At Eleusis:
At this point, the details of the Mysteries become much less clear due to their secretive nature. The sixth day, called the Telete, or "rites," was probably a day of fasting and purification. The fasting was probably broken by the drinking of the kykeon, a potion commemorating the Demeter's refusal to drink red wine. (lines 208-9) Further sacrifices were made by the Archon Basileus before the final initiation began. (lines 368-9) We know little of this part of the Mysteries, as the ancient sources tell us only that it consisted of "things enacted," probably a sacred pageant telling the tale of Demeter and Persephone, "things said," probably a series of brief liturgical or invocational statements, and "things shown," probably the Hiera and other objects, though again, we cannot be certain.
The seventh day was probably spent resting in preparation for the initiate's final night in the Telesterion. The eighth day was mostly for libations to the dead, though there were probably many festivities that day, as well.
Back to top
Return to Athens:
The ninth day was the return to Athens and the close of the festival. On the day following, the Archon Basileus and his assistants reported to the Athenian ruling assembly at the Eleusinion on the proceedings and recommended legal action against anyone who had acted impiously. At this point, initiates had no further obligation to the cult and could resume living their lives as they pleased.
The Eleusinian Mysteries lasted for well over a millennium and had countless initiates. The Mysteries probably ceased to be celebrated in 396 A.D. with the destruction of the sanctuary at Eleusis and the Eleusinion at Athens by Alaric and the Visigoths.
Back to top
Sources:
Miles, Margaret M. The Athenian Agora. American School of Classical Studies Publications, 1998.
Mylonas, George E. Eleusis and the Eleusinian Mysteries. Princeton University Press, 1961.
Petites visites virtuelles du sanctuaire :
visite du site d'Eleusis tel qu'on le voit aujourd'hui.

visite du sanctuaire tel qu'on le voyait dans l'antiquité
Fiches d'activités : n° 1 - n° 2 - n° 3 - n° 4,
Título:
El camino a Eleusis
Una solución al enigma de los misterios
Autor:
Wasson / Hofmann / Ruck
homepage.mac.com/ cparada/GML/Eleusis.html
| | | |
| --- | --- | --- |
| | Poppies, dear to Persephone, growing at Eleusis, sacred to her. In the background the Plutonium can be seen | |
http://www.calvin.edu/academic/clas/pathways/eleusis/emus.htm
www.athensguide.com/ eleusis/: El expolio de Eleusis
La Sala de Iniciación de Eleusis
El Telesterion de Eleusis. donde tenían lugar los ritos principales de los misterios
Extraído de: ROBERTSON, D.S.: Arquitectura griega y romana, Ed. Cátedra, 2ª ed., Madrid, 1983, pp.168-172
---

Podemos pasar a continuación a estudiar una interesante serie de estructuras cubiertas que guardan un parecido general con el lugar de reuniones al aire libre, o con el teatro descubierto. La más antigua parece ser la segunda forma del Telesterion o Sala de Iniciación, en Eleusis, levantada cerca del final de la tiranía de los Pisistrátidas, en la segunda mitad del siglo VI a. C. Se trataba quizá del primer edificio griego diseñado para acoger bajo un techo a un amplio número de personas reunidas para ver y escuchar algo que allí se representaba; la necesidad del secreto en los Misterios fue, sin duda, la causa de tan importante innovación. El procedimiento seguido para las cubiertas cuenta con paralelos egipcios y persas.

De principio a fin, el Telesterion consistía en una sala rectangular, casi cuadrada, con asientos a lo largo de sus muros, y con la techumbre soportada por un bosque de columnas levantadas en las intersecciones de unas imaginarias líneas paralelas a los cuatro lados. La figura 1 muestra el plano de los restos que nos han llegado, con la forma más reciente impresa en negro más intenso. La parte superior del plano coincide aproximadamente con el oeste; aquí el suelo se vuelve escarpado y es una masa de sólida roca.

El edificio de los Pisistrátidas puede verse en la esquina nordeste; sus muros están dibujados en contorno, y la posición de sus columnas como cuadrados en blanco. El interior en esta fase medía 25 metros por lado aproximadamente, y había 25 columnas interiores en hileras de a cinco, jónicas, probablemente, que alcanzaban las vigas del techo. Las tejas eran de mármol y la iluminación central, como lo fue sin duda más tarde. Tenía un pórtico próstilo en estilo dórico, quizá de nueve columnas, a lo largo de toda la fachada este. Este edificio fue dañado, aunque no destruido, por los persas, y tras algunos años se inició un nuevo y mucho más amplio proyecto, quizá por Cimón, lo que requería un gran desmonte de roca al oeste. Debería haber tenido 49 columnas interiores (siete por siete), pero nunca se completó el plano, debido quizá a la caída




Figura 74. Telesterion, Eleusis; planta general de los restos subsiguientes (el norte a la derecha, aproximadamente)

de Cimón en el 461 a. C. Ya estaban dispuestos los emplazamientos para las tres hileras de columnas del norte, así como para tres columnas en la esquina sudoeste, 24 columnas en total; de ellas, 18 pueden verse en la figura 74, donde aparecen representadas como círculos en blanco, algunas dentro de cuadrados en blanco. En esta fase, algún tipo de estructura provisional debía reemplazar al edificio pisistrátida. Pericles reemprendió el plan de Cimón, y se lo encarg6 a Ictino, quien seguramente acababa de terminar el Partenón. Parece que éste aceptó el esquema de Cimón para los muros externos e introdujo una nueva y

Fig.75. Telesterion, Eleusis; planta del proyecto de Ictino, reconstruido conjeturalmente

atrevida disposición interior, reduciendo a 20 el número de sus columnas, en cinco hileras de a cuatro. Diseñó así mismo un pteron externo, igual de alto que el propio edificio, y en todos sus lados, salvo el del oeste. En la figura 74, la posición de las ocho columnas más meridionales, las únicas que estaban listas, aparecen como cuadrados en blanco, y los únicos tramos del pteron que permanecen en la actualidad, al nordeste y sudeste, aparecen también en blanco; pero será conveniente mirar las figuras 75 y 76, que ofrecen la brillante reconstrucción que Noack hace de este gran complejo, abandonado, como el precedente, en el momento en que cayeron los políticos que lo apoyaban. Al oeste se extendía una terraza tallada en la roca, tal como Cimón quizá lo había ya planeado, y a lo largo de su límite occidental se levantaba probablemente un muro con ventanas que giraría hacia el este en

Fig.76. Telesterion, Eleusis; proyecto de Ictino, conjeturalmente reconstruido. (a) arriba: sección este-oeste, con indicación adicional del proyecto en realidad terminado, incluyendo el pórtico de Filón. (b) abajo: sección norte-sur, con indicación adicional de la mitad de la derecha (norte) del proyecto de cubierta que se llegó a realizar, así como de una de las columnas interiores posteriores (x). Bajo cada figura se ofrece una comparación entre los intercolumnios del proyecto de Ictino y el anterior, de Cimón, con las medidas interaxiales.

sus dos extremo para terminar en unas antas en línea con las columnas del pteron; entre estos muros y la sala, un amplio tramo de escaleras a cada lado conduciría a la terraza. Aunque la disposición de las cubiertas es, como es lógico, conjetural, el esquema de Noack es plausible; supone que el tejado debió ser piramidal y que el rectángulo central (anactoron), iluminado desde arriba por tejas perforadas, debía quedar aislado por unas cortinas corridas normalmente, y abiertas y temporalmente cerradas antes de la celebración de los Misterios. Los dramas rituales, como la persecución de Perséfone, se desarrollarían probablemente a la luz de las antorchas en el espacio que rodea al anactoron, siendo el clímax un torrente de luz del amanecer procedente del repentinamente descorrido centro. Hay que añadir que los asientos serían tan estrechos que los espectadores debían permanecer en pie sobre ellos, y que probablemente habría galerías de madera sobre los asientos de la planta baja. A la caída de Pericles la obra fue aparentemente encomendada a tres nuevos arquitectos, mencionados por Plutarco, que la recondujeron a las líneas generales del proyecto de Cimón. Su plano se conservó cuando el Telesterion fue reconstruido tras un incendio en el siglo II de nuestra era, que dejó sin dañar partes del muro externo. Aparece en negro en la figura 74. Abandonaron el pteron exterior, dotaron al edificio de una cubierta normal a dos aguas con el caballete de este a oeste, y levantaron 42 columnas (siete por seis) en su interior; prolongaron además la sala hacia el oeste mediante un nuevo desmonte en la roca. Las dimensiones internas eran ahora alrededor de 52 metros por lado. La disposición del tejado y la iluminación se mantuvieron con las necesarias modificaciones. La "linterna", central (opaion) de este esquema se menciona en Plutarco (Pericles, 13). En torno a la mitad del siglo IV a. C. se comenzó un amplio pórtico dórico de doce columnas --planeado primero para trece-, con una más a cada lado; lo terminó más tarde Filón de Eleusis en el mismo siglo, y sobrevivió a la restauración romana, aunque las columnas nunca se llegaron a estriar del todo. Los arquitrabes interiores debieron ser siempre de madera.
"Whoever has been initiated at Eleusis or has read what are called the Orphica knows what I mean." [Pausanias, Description of Greece 1.37.4]