| | | | | | | | | |
| --- | --- | --- | --- | --- | --- | --- | --- | --- |
| ENTRADA, | Curriculum | .English | | E-mail | | Actualización: 10 enero 2006 | | Tempus fugit |
PASAR AL CAPITULO 7. EX OCCIDENTE LUX
PASAR AL CAPITULO 9: LUZ EN LA OBSCURIDAD: LAS ESCRITURAS PALEOHISPÁNICAS
CAPÍTULO 7.EX OCCIDENTE LUX
<![if !vml]>
<![endif]>
An inscription with many " characters "

At Ftelia (Mykonos, Greece) an example of symbols-letters occurred. It is composed of many "characters".
A communication code, which could belong to a Protobalkan script, already exists in the Balkans during the Neolithic Age.

An inscription with many " characters "

At Ftelia (Mykonos, Greece) an example of symbols-letters occurred. It is composed of many "characters".
A communication code, which could belong to a Protobalkan script, already exists in the Balkans during the Neolithic Age.

References:

A. Sampson, The Neolithic Settlement at Ftelia, Mykonos, Rhodes, 2002

THE NEOLITHIC SETTLEMENT AT FTELIA, MYKONOS

by Adamantios Sampson

University of the Aegean, 2002
PAGINA 145.
<![if !vml]>
<![endif]>
Fig. Simbolos-letras de-una jarra de la Cueva del Cíclope , en la isla de Youra, en las Esporadas septentrionale(7.000-6.500 a.C.). Se aprecian las letras X" y "N" del alfabeto griego
Facsimil neolítico de letras griegas de época clásica sg Sampsom
PAGINA 146
<![if !vml]>
<![endif]>
Fig. Estatuilla femenina.Procede de Mezin(Ucrania). 18.000-15.000
<![if !vml]>
<![endif]>
Fig. .Figurita con signos en "M"-y doble triángulo . Procede de Paso di-
Corvo, cerca de Foggia, Italia, c. 5300 a.C. H 6,5 cm.
Lugares con signos antiguos
18.000 BC
11.000 BC
6.300 BC

Ukraine
Romania
Yugoslavia

6.200 BC
5.800 BC
5.500 BC

Grecia
Yugoslavia
Rumania

5.400 BC
5.300 BC
5.300 BC

Hungría
Yugoslavia
Rumania

5.500 BC
5.400 BC
5.300 BC

5.000 BC
5.000 BC
5.000 BC

Rumania
Macedonia
Rumania

Gumelnita
Cucuteni
Tripolye

4.500 BC
4.000 BC
3.500 BC
pagina 147
<![if !vml]>
<![endif]>
<![if !vml]>
<![endif]>
Fig. .Signos de Les Eysles, 14.000
<![if !vml]>
<![endif]>
Lascaux 17.000
<![if !vml]>
<![endif]>
Fig.. Signos del 19.000. Grotte Conquer
PAGINA 148
<![if !vml]>
<![endif]>
Signos de 20.000-10.000 a.C. Más d´Azil,Francia
Fig.15.Tres líneas , Mitoc-Deadul Galben Rumanía,
NE. 24-28 000 a.C.,
Con ángulos y la secuencia 3-6-9 :3x2=6, 3+3=6, 3x3=9, 3+3+3=9.
Pictures on a bone from Mitoc, Malul Galben, near Botosani, NE Romania, 27th mill. BC. Here we have: "spiral"; "V"-sign; "tri-line"; "six-line" & "nine-line". Very curious! One of the first communication language of the man. 3 that becomes 6 and 9, the Whirl that is creating Chaos, and Angle that is creating Order (Action, Reaction).
Fig.. Figuras del Gravetiense de Cosauti, rep. of Moldova, aprox. 16.000 BC: con el signo M en la parte superior con dos líneas paralelas., 7&9 series y una "radiografía" humana.
www.dacia.org/.../5_cosauti__16_000_bc.html
Líneas entrelazadas.Gravetiense de Cosauti. 18.000 a.C.
http://library.thinkquest.org/C006353/ancinet_signs.html
Fig.. Figurita con signos "M"-procedente de Paso di-Corvo,cerca de Foggia, Italia, c. 5300 a.C., H 6,5 cm.
Fig.. Un "libro" neolítico, de la Cultura de Vinca , Fafos, Cosovska-Mitrovica, cerca de Pristina, S Yugoslavia V milenio a.C.
Fig.. El signo de la doble"M" procedente de la Cultura de Tisza, Battonya, SE Hungría, 5200-5000 a.C.
PAGINA 149
Símbolos de Vinča , creados por Sorin Paliga , del Departamento de Lenguas Eslavas y Literatura de la Universidad de Bucarest, Rumania
Idolo (¿Diosa-pez?) de Lepenski Vir (República de Serbia y Montenegro) con
inscripción"
(7000 -5500 B.C.)


Antigua inscripción macedonia de Osinchani, cerca de Skopje (7000-6000 a.C.).
PAGINA 150
<![if !vml]>
<![endif]>
PAGINA 151
<![if !vml]>
<![endif]>
PICTOGRAMAS
Pictogramas sumerios
------------------------------------------------------------
El primer pictograma (dibujo representando un objeto o una idea sin que la pronunciación de tal objeto o idea sea tenida en cuenta) del que tenemos constancia se remonta al año 3.500 a.C., y es una tablilla en pieza caliza hallada en la ciudad de Kish (Babilonia).



The Philadelphia Tablet
f ound near Baghdad, Iraq
3100-2900 BC
IDEOGRAMAS CHINOS Y JAPONESES
EVOLUCION DE LOS PICTOGRAMAS SUMERIOS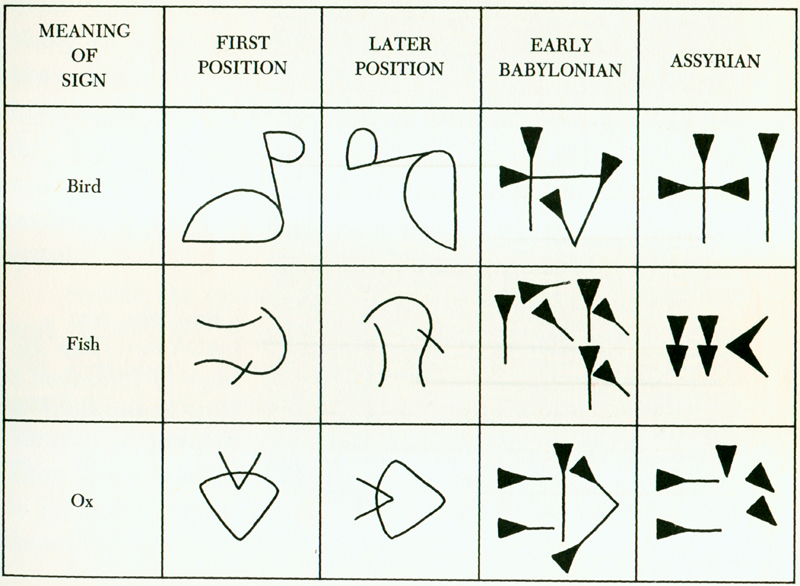 Vlassa, N., 1963. Chronology of the Neolithic in Transylvania, in the Light of the Tartaria Settlement's Stratigraphy, Dacia, N.S. VII: 485‑494.
-----, 1969. Einege Bemerkungen zu Fragen des Neolithikums in Siebenbürgen, Studijné Zvesti, 17:513‑540.
‑‑‑‑‑, 1970. Kulturelle Beziehungen des Neolithikums Siebenbürgens zum Vorderen Orient, Acta Musei Napocensis, VII:3‑39.
‑‑‑‑‑, 1974. Neue Beiträge Zur Frage orientalischer Einflüsse im Neolithikum Siebenbürgens, Praehistorische Zeitschrift, 49:181‑192.
Winn, Shan . M. M. , 1981. Pre‑Writing in Southeastern Europe: The Sign System of the
Vinča
Culture ca. 4000 B.C. Western Publishers, Calgary.
-----, 1973. The Signs of the
Vinča
Culture: an Internal Analysis; Their Role, Chronology and Independence from Mesopotamia. University Microfilms, Ann Arbor, Michigan.
-----, 1990. A Neolithic Sign System in Southeastern Europe, The Life of Symbols, ed. by Mary Le Cron Foster and Lucy Jayne Botscharow. Boulder, Colorado: Westview Press.


Zanotti, D.G., 1983. The Position of the Tartaria Tablets within the Southeast European Copper Age, American Journal of Archaeology, 87:209-213.